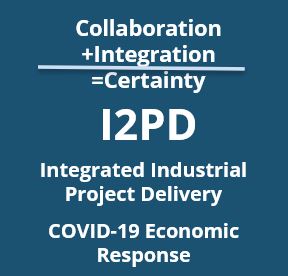 Due to the impact of COVID-19, projects are experiencing significant productivity impacts especially due to health impacts, as well as increasing pressure and social license related to climate change. I2PD is a good approach for quickly planning and executing capital projects as government and industry relaunch the global economy.
Watch Michael Dubreuil, PTAG's Managing Partner, as he presents at CII's webinar on I2PD – A Means to Plan and Execute Capital Projects as Part of COVID-19 Economic Response. Michael is joined by Mike Pappas – Associate Director for Deployment at CII, Alison Bradley – Director, Asset and Project Management, Eastern Operations at Ontario Power Generation, and Phil Barutha – Assistant Professor at Durham School of Architectural Engineering and Construction, University of Nebraska–Lincoln.
This webinar was originally conducted on 2020, September 16.
To stimulate the economy, governments and businesses are starting to invest in capital projects. This will help fight the economic impact, boost employment opportunities as we are facing severe job losses due to the pandemic.
The New Normal requires "new ways" of operating that requires all parties; Owners, Consultants, Contractors, Engineers, and Equipment Suppliers to find new and innovative ways of optimizing cost and schedule to mitigate the impact of COVID-19 and work towards a sustainable recovery.
Industrial Integrated Project Delivery, or I2PD, is one such approach of project delivery that uses high degree of collaboration and integration in the development, design, and construction phases of an industrial project. Research has shown that highly integrated projects have proven to have a superior performance in metrics related to quality, communication, and change performance with significantly faster processing times, improved cost and schedule certainty to meet business objectives.
Some of the noted benefits of I2PD:
This one-hour direct and to the point webinar will present I2PD as a project delivery method and explain why it is a good approach to be used to swiftly plan and execute capital projects to aid in relaunching the global economy after COVID-19.
To learn more please contact us.
Originally recorded: 2021, September 16
Get to know PTAG's speaker:
https://ptaginc.com/wp-content/uploads/2021/05/I2PD-Covid-19-economic-recovery-image.jpg
276
288
Kshitij
https://ptaginc.com/wp-content/uploads/2017/10/PTAG-logo-vector-tagline-2-1.png
Kshitij
2020-09-16 17:00:39
2021-06-22 10:36:53
Recap video – CII's webinar on I2PD – A Means to Plan and Execute Capital Projects as Part of COVID-19 Economic Response