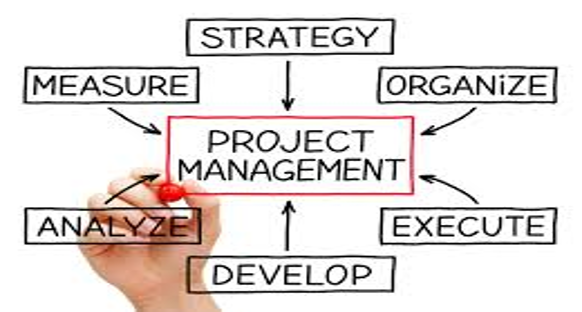 Join Feroz Ashraf and Michael Dubreuil for a two-part Webinar. Each 1hr session will be direct and to the point providing practical and validated examples on the Importance of Front-End Planning and Leveraging Industry Best Practices.

Click here to Register:
Globally, an increased focus on health, safety, environmental, and regulatory requirements is impacting project costs, all while the pressure to maintain project objectives to meet tighter budgets, schedules and quality requirements exists. It is becoming imperative to rigorously plan and define the projects well. The ability to do so is defining company and project teams success
Join us, as Senior PTAG practitioners walk you through practical step by step approaches and strategies covering the following topics:
Session One – 1:00 to 2:00 pm EDT, September 22nd:
Understand the top 8 reasons why projects go off-track
Examine how Front-End Planning and a rigorous staged-gate process is crucial
Learn how and when to use Construction Industry Institute (CII) Front-End Planning tools, such as the Project Definition Rating Index (PDRI) to determine the "state of readiness" and "maturity level" of your project.
Review how to assess the Project Complexity Index and Maturity Levels– and to adapt the Execution Plan accordingly
Determine why Initial Project Set-up, Team Alignment and a focussed List of Deliverables are important
Session Two – 1:00 to 2:00 pm EDT, September 29th (will build on our first session)
Review why a consistent Project Controls and Risk Analysis methodology is critical
Learn how a simplified, interactive Project Management & Project Controls Handbook – is a key to Project Management and Delivery Success
Quick review of Value Engineering and Value Improvement Practices
Look into Integrated Project Management Structure and Systems – I2PD
Understand why an Integrated Project Execution Plan (IPEP) is a roadmap to success
Bring it all together, the PTAG Playbook for successful project execution.
These sessions are part of PTAG's ongoing webinar series on Best Practises in Project Management & Project Controls. PTAG works with sustaining and capital projects owners around the world and is passionate about ensuring the successful delivery of every project, especially in this ever growing complex and uncertain environment.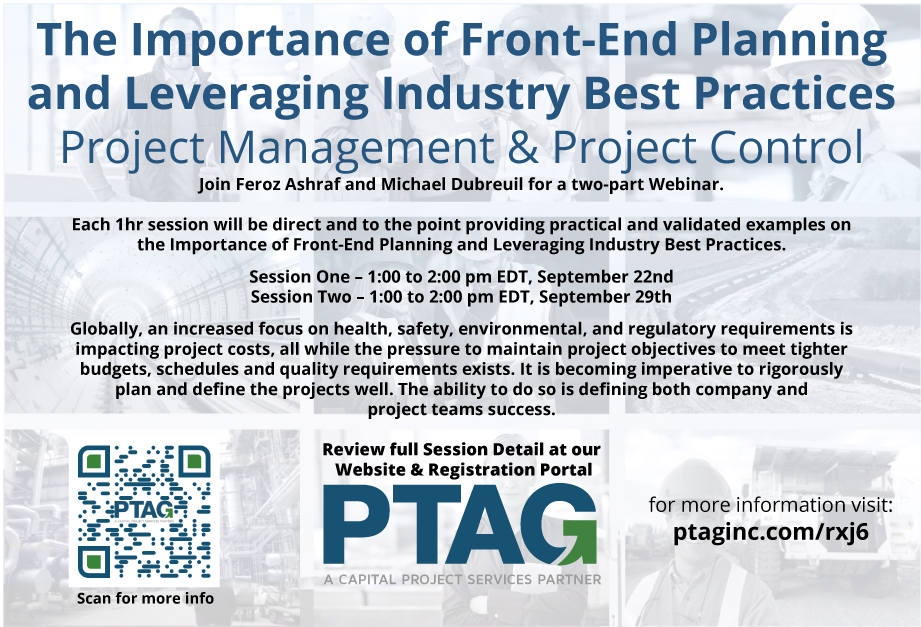 https://ptaginc.com/wp-content/uploads/2020/08/Picture1-1.png
312
582
admin
https://ptaginc.com/wp-content/uploads/2017/10/PTAG-logo-vector-tagline-2-1.png
admin
2020-08-25 17:26:35
2021-06-28 11:04:45
Sign-up Open: The Importance of Front-End Planning and Leveraging Industry Best Practices