Having a strong partnership makes a tremendous impact on projects.
PTAG has industry-specific teams ready to help you build a united team
with a common objective, improving quality,
reducing costs, and increasing efficiency.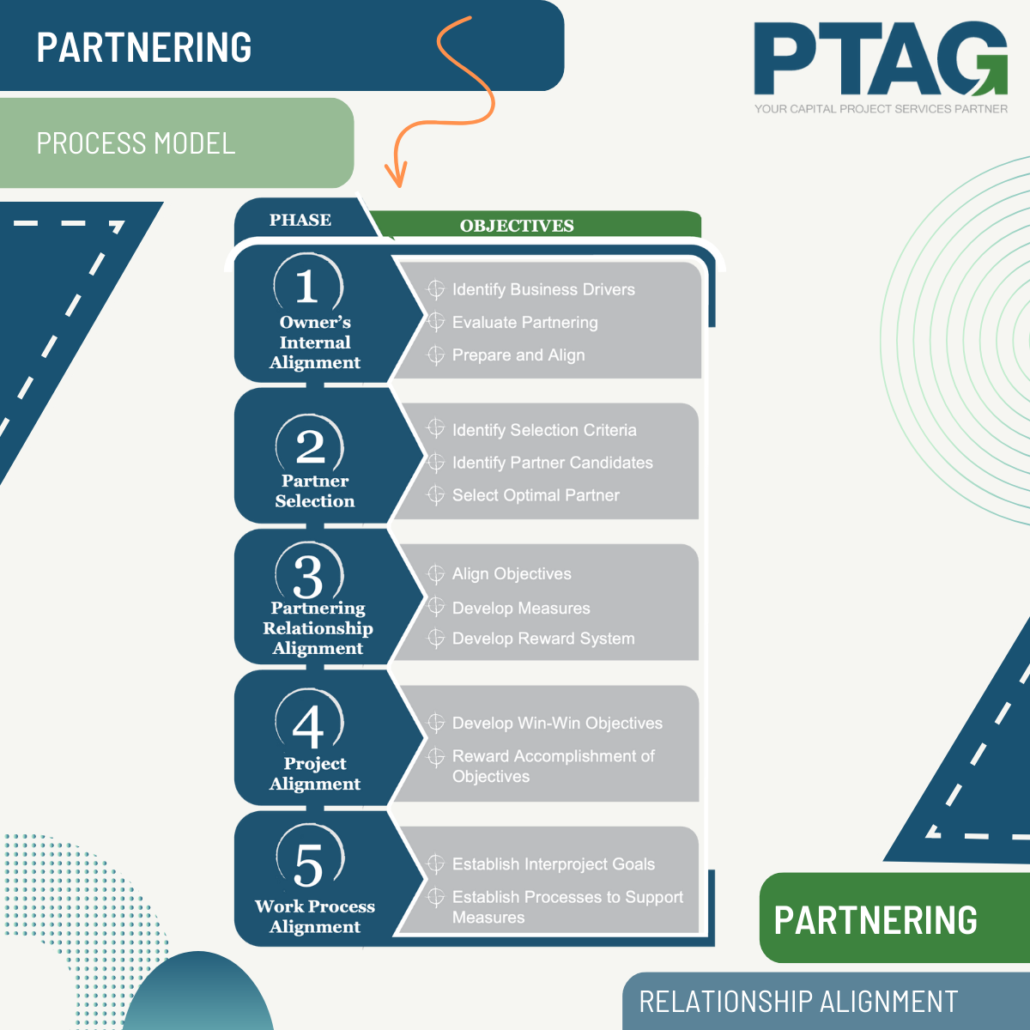 Partnering is a long-term commitment between two or more organizations as in an alliance or it may be applied to a shorter period of time such as the duration of a project. The purpose of partnering is to achieve specific business objectives by maximizing the effectiveness of each participant's resources.

Partnering's bottom line: a construction industry process that strengthens both projects and partners, tightens schedules, safeguards quality, and enhances each partner's competitive edge.
Partnering requires changing traditional relationships to ones that exist within a shared culture without regard to organizational boundaries. These relationships are based on
trust, dedication to common goals, and mutual understanding of individual expectations and values.
Successful partnering involves selecting a qualified partner, establishing a rapport between the two major players in the project, and then expanding the commitment to other key players in the project.
Six key factors in implementing and managing successful partnering relationships are:
Establishing Trust
Getting Top Management's Support
Establishing Win-Win Objectives
Addressing Internal Barriers
Getting Champion to Direct the Process
Developing Measures, Linked to Objectives
Managing an Effective Partnering Relationship is a Five Phase Process:

Phase 1 – Owner's Internal Alignment

Phase 2 – Partner Selection

Phase 3 – Partnering Relationship

Phase 4 – Project Alignment

Phase 5 – Work Process Alignment
https://ptaginc.com/wp-content/uploads/2022/10/Best-Practice-2-1.png
595
1196
Elnaz Khaleghi
https://ptaginc.com/wp-content/uploads/2017/10/PTAG-logo-vector-tagline-2-1.png
Elnaz Khaleghi
2022-12-01 16:03:06
2022-12-01 16:03:07
Partnering (Best Practice)