Once a new opportunity is identified, and an implementation path is laid out, the implementation process will result in the need for change. The implementation of new or improved practices is the driver for change management. Organizations face many challenges in overcoming barriers that come up during the implementation of new practices. An Implementation Champion will drive the implementation process with support and resources from upper management. Organizations face many challenges in overcoming barriers when implementing new procedures.
PTAG helps you to have a clear perspective on the overall stages required for the entire implementation process. A well-designed implementation plan will guide an organization to a successful outcome.
Follow steps that begin with needs analysis and end with implementation and benchmarking.
Stage 1: Needs Analysis – The Needs Analysis lays out the case for implementing a new practice. This case will need to be presented to both management and critical staff, so a compelling argument is required as an output of this stage.
Stage 2: Management Buy-In – The management buy-in will be based on the Needs Analysis developed in Stage 1.
Stage 3: Establish Steps – The Implementation Planning Model establishes four critical steps that will be followed during the implementation process. The third stage in the overall process requires one to understand these steps and develop an approximate schedule for the implementation process.
Stage 4: Adapt Matrix – In this stage, the implementation team must take the specifics within the Implementation Matrix and adapt the generic elements with organization specifics that address the unique requirements of the current implementation task.
Stage 5: Develop Plan – In this stage, the team will translate the details from Stage 4 into a plan that meets the specific organization's requirements.
Stage 6: Communicate Plan – This stage requires the team to communicate the proposed implementation plan to both management and the proposed test group.
Stage 7: Perform Change Audit – The implementation team will perform a Change Audit that evaluates the readiness of the organization to undertake the implementation process.
Stage 8: Implement Tasks/Plan – The implementation team will now follow the tasks laid out in the implementation plan for each step of the implementation process. Each step in the process has a set of three to five tasks that are critical for success in that step.
Stage 9: Perform Step Evaluations – In conjunction with Stage 8, the implementation team will perform evaluations during each step of the implementation process to determine if the process is achieving the required goals.
Stage 10: Benchmark – The final stage in the implementation process is to benchmark the new practice internally and externally.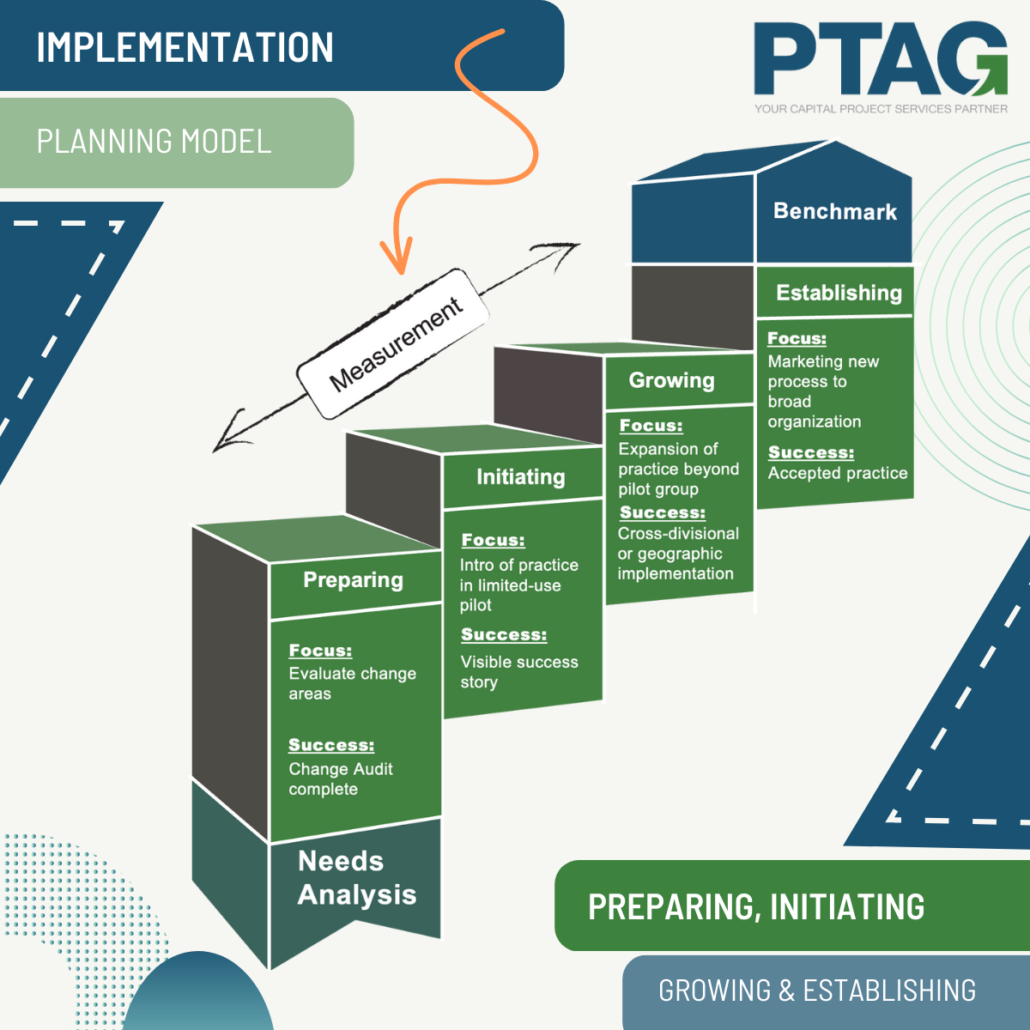 https://ptaginc.com/wp-content/uploads/2022/10/Best-Practice-2-1.png
595
1196
Elnaz Khaleghi
https://ptaginc.com/wp-content/uploads/2017/10/PTAG-logo-vector-tagline-2-1.png
Elnaz Khaleghi
2022-11-01 09:30:00
2022-10-28 12:01:35
Implementation Planning Model