Advanced Work Packaging
What It Is
Advanced Work Packaging is the process of defining project scope into manageable work packages early in the project lifecycle to ensure efficient execution of the project. Implementing Advanced Work Packaging reduces costly downtime for your organization by consulting engineering and construction when planning, resulting in schedule and cost improvements. By organizing work packages early in the project lifecycle, there will be a greater commitment towards mitigating risks and following an effective execution plan. Observed as a Construction Industry Institute Best Practice, Advanced Work Packaging ensures your project will be "beginning with the end in mind."
What You Need
Effective Project Control Systems
Clear alignment from control systems helps clients track the progress of their project. This performance measurement will allow the uninterrupted flow of data collection and management to achieve project objectives.
Efficient Materials Management
Advanced Work Packaging requires stringent organization early in the project to ensure these work packages can reach the project site when they are required. Thus, Advanced Work Packaging requires a reliable supply chain to satisfy project requirements and ensure timely completion of the project.
Document Control
Within larger projects, maintaining the flow of information to an agreed upon standard ensures information and documentation within your project is organized and easily accessible. Effective document control will enforce consistent processes while creating these documents; This will result in a work environment where losses due to disorganisation are significantly decreased.
Computerized Systems
Though not required for implementation, computerized systems will aid in a smooth fulfillment of Advanced Work Packaging. The consistent document organization that comes with having computerized systems will greatly impact performance.
Benefits of Successful Implementation
The benefits of Advanced Work Packaging can be observed with full or partial implementation of its methodologies on either small or large projects. Some of these benefits are listed below:
Improved Schedule Compliance
Advanced Work Packaging requires work packages to be mapped out early in the project lifecycle for successful implementation. These clearly laid out work packages will aid in committing to your organization's goals by meeting schedule deadlines.
Successful implementation of Advanced Work Packing will ensure downtime is reduced during project construction through its in-depth planning and organization. Every hour of on-site downtime reduced will directly result in savings for rental equipment, supervision, and support labor required by the project.
Improved Safety Performance
Tighter project organization achieved through implementation will reduce the required number of on-site hours for personnel. Spending less time on-site will indirectly decrease the potential for accidents and rework.
Accurate Project Predictability
Effective implementation of Advanced Work Packaging will remove uncertainty by mitigating any potential risks discovered early and following an organized execution plan
Alignment Among Stakeholders
Improved front end planning prior to project execution will ensure the project follows an organized and structured construction process aligned with stakeholder requirements.
AWP strategically establishes a Path of Construction that provides alignment among Engineering, Procurement, and Construction teams.
Advanced Work Packaging Flowchart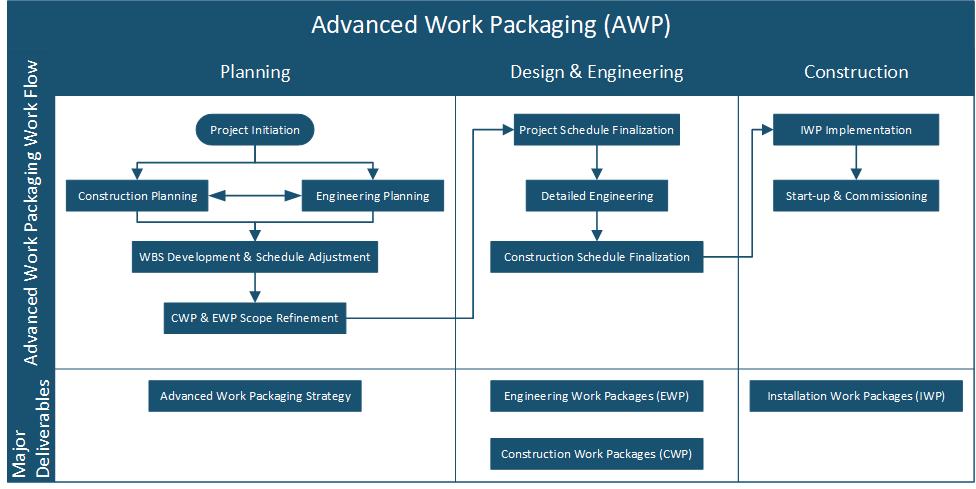 This flowchart represents how an organization may implement Advanced Work Packaging methodologies into the phases of their project, and the major deliverables they should yield within each phase. Though the three phases outlined above loosely resemble a traditional project lifecycle, they are malleable enough to fit your specific projects goals if implemented correctly.
Tools for Successful Implementation
There are several tools which can be used throughout the project lifecycle to aid and gauge the successful implementation. Some of these tools are listed below:
Project Definition Assessment Tool
Prior to dedicating time and resources towards Advanced Work Packaging, clients can use the Project Definition Assessment Tool. Using this tool prior to project initiation will guide the client through questions in order to gauge their readiness in implementing Advanced Work Packaging. This will ensure the client is truly ready for implementation and has not missed any steps.
Advanced Work Packaging Scorecard
The Advanced Work Packaging Scorecard can be used throughout the project's lifecycle to determine how effectively Advanced Work Packaging is being implemented as the project is progressing. This can be an effective guide to show whether your organization is using its full potential for Advanced Work Packaging.
Project Implementation Flowcharts
These tools are a series of process flow diagrams outlining whom the owner of each process is, the responsibilities of that owner, and how to integrate your procedures with Advanced Work Packaging methodologies.
Interested in learning more on how AWP can improve your project delivery, contact us today to get in touch with a project professional.
Download this Reference Guide, print it off and take it with you so that you always have at your fingertips a quick primer on Advanced Work Packaging.
Click to download the free reference!