Newly Appointed CFO, working Mom, and recent MBA Graduate
PTAG is pleased to announce the appointment of Shannon Sahota to CFO and has also been elected to PTAG's  Board of Directors.
Shannon began her career at PTAG in 2009 as a Finance Consultant, and for the past 11 years has worked her way up the ranks from Staff Accountant to Controller, to Vice President – Finance, and now CFO.   "Shannon's work ethic, combined with her analytical skills are just a just a few of the attributes that have helped her grow at PTAG. She has become a strategic  member of our management team." per Michael Dubreuil, PTAG's Managing Director.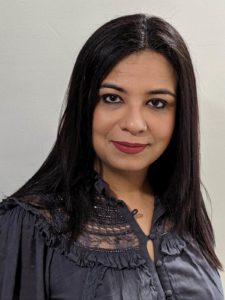 In 2018, Shannon considered finishing her CPA that she had put on hold to have children.  Her entrepreneurial blood caused her look at an alternative that would broaden her understanding of the business world.  In 2018, she began a journey that led to her  graduating from the Executive MBA program at Smith School of Business, Queens University in the spring of 2020.   When asked how she managed her family, job and MBA she responded "Managing such large commitments was extremely difficult.  But I had a lot of support.  My husband is extremely supportive and took on a larger role in our household.  At work, I was provided a lot of flexibility that allowed me to pour over my assignments during working hours so that I could go home and spend quality time with my family.    My staff took on some of my workload so that I could focus on completing my program for which I will be eternally grateful."
Bridging the work-home balance, Shannon's kids have always been welcomed with open arms at the office.  Whether it be a sick day, PD day, or COVID virtual learning, they are often seen in the halls of PTAG and are quite comfortable at finding a open desk to use.
Shannon is active in her community chairing her children's schools parent council; for the last 3 years planning numerous community engagement and fundraising events for the school.
When asked what Shannon likes most about working at PTAG, her face lit up and she said "PTAG is more than just a workplace, it is a part of my extended family.  We are all very supportive of one another in both good times and bad.  We all have our ups and downs', but we are all their for each other and will go to extended lengths to help one another, just like family."
In addition to leading the finance team, Shannon also be lends her support to the Marketing team to further develop the PTAG brand.  Shannon feels that brand recognition is integral to the success of an organization.  "The marketing class I took in my Executive MBA enlightened me on the importance of branding.  Your brand shows the world what and who you are and what you offer.  I envision PTAG to be the next Nike of the project delivery world."
Shannon is also responsible for PTAG's social responsibility charter.  "PTAG is committed to ensure that everyone who works here knows that they are working in an inclusive environment that cares not only about bottom line but also cares about the people who help achieve it.  PTAG is committed to being a contributing partner in our communities both as an organization and on an individual basis.  In 2021, I will focus on PTAG further enhancing our presence in our communities as well as consciously endorsing diversity and inclusion."
When asked what's ahead for Shannon, she responded, "PTAG has supported me for the past 2 years while I pursued my dream degree.  It is now time for me to dedicate myself to help PTAG grow to the next level.  In my opinion, for PTAG, the sky is the limit, and I will work with my teammates to ensure we reach that limit in the next few years."
Once again PTAG would like to congratulate Shannon on her achievements and thank her for her continued contributions to the organization.