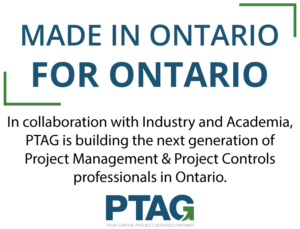 In collaboration with our partner network, this summer PTAG launched our "Made In Ontario" strategy to develop the next generation of Project Management and Project Controls professionals. This initiative is to increase awareness of the main avenues that a Project Management career offers.  Working with academia, and industry we are working with junior to senior professionals to advance their capability and add depth to a shallow labour pool.
We are pleased to announce that our program has achieved some early milestones in partnership with the following:
In partnership with OCNI, we are pleased to announce two new hires through the OCNI Indigenous and Woman Inclusion Program.  Based in PTAG's Southampton, Ontario office they will contribute to the continued growth of our services in Bruce County.
In Collaboration with Ontario Tech University, PTAG successfully developed a new Project Management Course which is offered through OTU's Nuclear Engineering Program.  This course has already been completed by one class of students, and we look forward to welcome the next group in January.
PTAG's Made In Ontario program has been developed to address the vast need for local Project Management and Project Controls professionals across the Nuclear, Mining & Industrial, and Infrastructure sectors.  We want to thank our partners for their commitment to making this program a success. Furthermore, we want to thank our clients who have recognized the need to develop a sustainable approach towards the future of Ontario's Project Management & Project Controls need.