Ugo Santone – Working, Raising a Family, Community Volunteer and MBA Graduate
Ugo started his career with PTAG in November 2012, after having spent more than a decade as a Human Resources and Talent Management professional in the EPC, Engineering Consulting and Construction Industry. Ugo began pursuing his MBA degree in 2010, after consultations with Executives at a former employer Shaw Energy & Chemicals. Ugo enrolled with at the University of Fredericton, in their online MBA program. After a promising start, Ugo had to postpone his studies for health reasons. Ugo had chronic kidney disease, which was leading to kidney failure. After a year of dialysis treatment in 2013, Ugo had successful kidney transplant surgery in February 2014, thanks to his Sister being a 100% match as a donor. Throughout this period of illness, treatment, surgery and recovery, PTAG supported Ugo and his family along the way. PTAG provided support and flexibility to Ugo while he was receiving dialysis treatment and continuing to work. PTAG continued to support Ugo throughout his 3 month recovery period from surgery.
"When we talk about PTAG being a family, the support and positivity everyone in the organization provided me and my family while I was going through my treatment and recovery, truly underscores how much we care for one another, beyond PTAG just being a place to work" said Ugo Santone.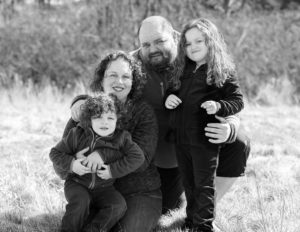 Once Ugo was able to reach a state of normalcy in his recovery, he decided in Fall of 2016 to continue his MBA studies at UFred. Again, PTAG was very encouraging and supportive of Ugo returning back to school, with the intent of Ugo taking on a greater leadership role at PTAG as a part of his path forward with the organization.
It was not easy for Ugo to continue his MBA studies, given that he had young children at home, was a volunteer Rep soccer coach for U9/10 boys, and was working full-time at PTAG. Fortunately, he had a very supportive wife and family, "My wife was a rock throughout my studies, she managed the children and the home, as well as being my official essay editor, she is an amazing person" said Ugo Santone. Thankfully, the University of Fredericton provided a flexible, robust online MBA program, with first class professors that provided a true global view of business and economics. Ugo was also supported by excellent teammates in his program, studying at UFred exposed him to a diverse group of professionals across many industries. This provided Ugo with a great depth of shared knowledge of a variety of industries and markets, that he had previously not been privy to. Also, the UFred MBA program helped Ugo make key contacts and connections across Canada, expanding his network of professionals.
"Finding myself up from midnight to 4am working on a paper or project was very common event for me. After working all day, coming home helping with the kids or running out to coach soccer, it would often be 9pm, where I would catch up on some PTAG priorities, then jump to working on my MBA studies til the early morning. Get a couple hours of sleep and head out to the office" said Ugo Santone.
Upon completing his MBA in April 2020, Ugo transitioned into a more senior leadership role at PTAG, being promoted to Partner of the Professional Services division. In this leadership role, he has overall responsibility of the Professional Services Business Unit, with of focus of growing the division domestically and internationally, while supporting the overall growth and brand of PTAG.
Ugo's goal for PTAG, is to help make it a global brand, one that is seen a true integrated partner for their clients in the capital projects market. His main purpose is to help clients find better more environmentally friendly ways to execute projects, while ensuring clients are able to execute projects in an economically and socially sustainable way.
"I want PTAG to be seen as a visionary leader and force for change, in how we help our Clients and Partners execute their heavy industrial capital projects. So that we meet the goals and expectations that our various communities expect from us, with regards to how we ensure sustainability of our environmental resources, through strong governance and smart economic practices. Our clients come to us because of the expertise that we provide on projects, through exceptional leadership," as stated by Ugo Santone.
Since obtaining his MBA, Ugo has been promoted to Partner at PTAG He is heavily involved with the Construction Industry Institute as part of their Growing through Organizational Agility Research Team. He is the current Vice Chair for the Project Advisory Committee – Project Management Program at Centennial College.
His community involvement includes being  a member of the Board of Directors for the John Howard Society in Belleville.. He also continues to be a part of his local soccer community in a coaching capacity; and is currently looking forward to pursuing his Canada Soccer C Licence, in the near future. Did we also mention that he wrote a Children's book? That's right, he also managed to find some time to write a Children's Christmas storybook.